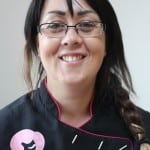 From the first consultation, you'll be glad you came to see Teresa.
Trained to a professional standard by companies such as Dermedics, you'll know instantly that you are in safe hands.
Dedicated Home Salon in Ashford, East Kent
The downstairs in her home has been turned into a comfortable and relaxing beauty treatment area.  There's a toilet and shower exclusively for clients, along with two private treatment rooms.
With plenty of parking and easy to find, a trip to her home salon is both easy and relaxing.
Professionally Trained and Insured
Teresa is proud of her training and displays her certificates on the walls of her salon.
Master Eyelash Technician
She is a Master Eyelash Extension Technician have obtained a diploma in eyelash extensions in February 2013 and her Lucifer Lashes advanced course and Lucifer lashes Russian volume Course Master Lash Tech in June 2014. She then completed the Mega volume training by Carmen Palmiste in April 2016.
Facial Practitioner
She is a Facial practitioner Diploma obtaining this diploma in September 2013 and trained in Microdermabrasion December 2013.
Nails, Manicures & Pedicures
Nail art Diploma June 2013
Manicure and Pedicure Diploma October 2012
Soak off uv Gel polish Diploma October 2012
Hair Extensions
3 methods of hair extensions September 2012
Waxing
GTI Waxing Course November 2013
Advanced face &body waxing for men ( Axiom wax academy ) June 2015
Male intimate waxing (Axiom wax academy) June 2015
Female intimate waxing ( Axiom wax academy ) May 2015
Shrinking Violet
Shrinking Violet body wrap June 2013
Master Spray Tanner
Contour D'or the avant -Garde shrinking tan , Master Tanner January 2014
Spray Tanning Diploma November 2012
Professional standards for therapists GTI 11/13
She is also fully insured and will happily provide you with a copy of her insurance certificate.  And you are encouraged to ask!
Happy Customers
Teresa prides herself on the high number of repeat customers she has.  In fact 83% of customers come back time and time again for a range of treatments.
About Teresa
Teresa is a mum to two, one boy, one girl and has lived in Kent all of her life.  Before training as a beauty therapist, she was a care worker, working with those who need some additional day to day assistance.
Teresa loves people and has an infectious enthusiasm for life.  She's raised money for charities, in particular SCOPE by climbing Mount Kilimanjaro and regularly donates prizes for local charitable events.