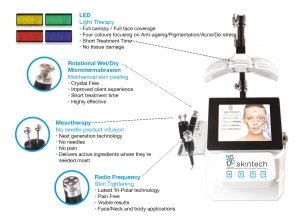 What is Microdermabrasion 3D Skintech style ?
During microdermabrasion a Rotational Diamond is applied across the skin to gently remove the outer layer of old skin cells and reveal new, fresh rejuvenated skin.
Radio Frequency is applied to tighten the skin with Electro- Mesotherapy.
What are the benefits of Microdermabrasion?
Visible results immediately
Healthy glowing skin
More even skin tone
What does can it treat?
Acne and acne scarring
Pigmentation
Blemishes
Dull, tired skin
Stretch marks
Fine lines and wrinkles
Sun damage
When will I see results?
You'll be able to see the difference the minute you look in the mirror.  Your skin will look younger and feel smoother.
How many sessions will I need?
A one of treatment will be enough for an instant improvement, but it's recommended that you have a  6 week course.
6 weeks is a more holistic approach to skin rejuvenation. Combining this with some simple lifestyle changes and a youthful you is only weeks away.
You will see results immediately and with each subsequent treatment your skin will continue to look progressively better.
Professional Treatment
This is a professional treatment, the dead skin cells are being removed from your skin.  You need to make sure that whoever carries this out is a trained professional.  Teresa and Sam have been trained and certified by 3D-Skintech.